| | |
| --- | --- |
| Male Plug | Europe CEE7/7 Schuko plug |
| Female Receptacle | IEC 60320 C5 Europe |
| Amperage | Up to 2.5A |
| Voltage | Up to 125V AC |
| Outer Mold Material | 50P PVC |
| Blade Material | Nickel coated Brass |
| Color | Custom color available |
| Cable Length | Custom length available |
| Certifications | VDE |
| Environmental Certifications | RoHS, REACH |
| Testing | 100percent are individually tested |
| Available Wire Styles | H03VV-F 3G0.5-0.75 , H05VV-F 3G0.75-1.5 , H03RT-F 3G0.75-1.0 |
| VDE | 3000 pcs |
| Delivery lead date | 15-20 days |
| Packing | Export cartons |
| Samples | Free samples can be sent within 3 days |
| Payment | TT 30percent Advance,balance after shipping,L/C |
Other Termination Options:
More Information:
Power Supply Cord Drawing
International Power Cord CEE7/7 Schuko plug to IEC C5 Connector technical drawing of custom cable's length and color.
Power Supply Cable Image
German Type International Power Cords CEE7/7 Schuko plug to IEC C5 power supply cable photos from China premier power cord manufacturer.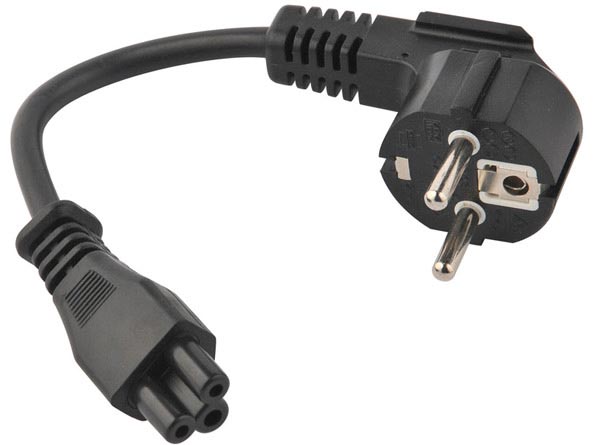 Europe Plug IEC 60320 C5 Mickey Mouse Laptop /Notebook/Notepad Adapter , Lead , Mains Clover Type Cloverleaf Power Cable
Europe Plug IEC 60320 C5 Mickey Mouse Laptop Power CableCustom Length / Color, VDE Approved

Plug type: German plug Schuko angle
Standard: CEE7 standard sheet 7-16
Approvals:VDE,CEBEC,DEMKO,
F1,IMQVDE,KEMA,NF,OVE,SEMKO
Electricity:2.5A,250V
Number of Poles and Wires:2 poles 2 wires
Cable length:1.0 meter, 1.5m, 1.8m,custom length
End Options: IEC 60320 C5
Quality System:ISO9001:2008
Color: White and black are normal, Custom color
Outer Mold Material: PVC, Rubber
Plug Insert Material: PBT, ABS
Blade Material: Nickel Coated Brass
Cable Specifications: Standard and custom made
Wire Jacket Material: PVC, Rubber, TPE, Textile
Environmental Certifications: RoHS, REACH, PAHS
Model Number: D03/QT1, JT003/JT-ST2-B
Europe schuko CEE 7-7, Type E, F Plug 16 Amp 250 Volt, 2 Pole 3 Wire Grounding, Connector Standard IEC 60320 (320) C5 straight 2.5A 250V " Clover Type Power Cable, Cloverleaf, Mickey Mouse Laptop / Notebook / Notepad Power Adapter Mains lead receptacle.European VDE (European 16 A/ 250 V) and compatible types (Type E, F), connected with a three-wire ungrounded plug rated at 16 Amp, 250 V defined by CEE 7/7 with IEC C5 power cord. The Europe AC plugs and Sockets are used in most European countries are the most popular power plugs types.
Europe SChuko plugs IEC C5 power cord is black and white as the standard color. gray and custom color are available. Custom length and shielded Europe AC power cord, Europe AC power cables available.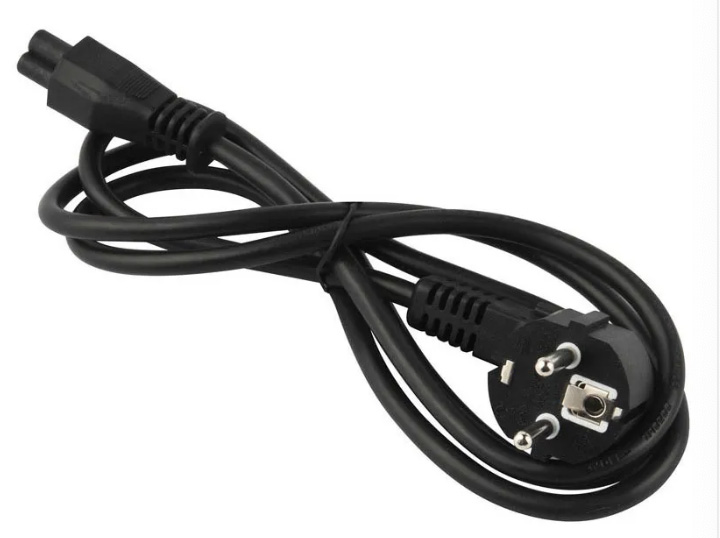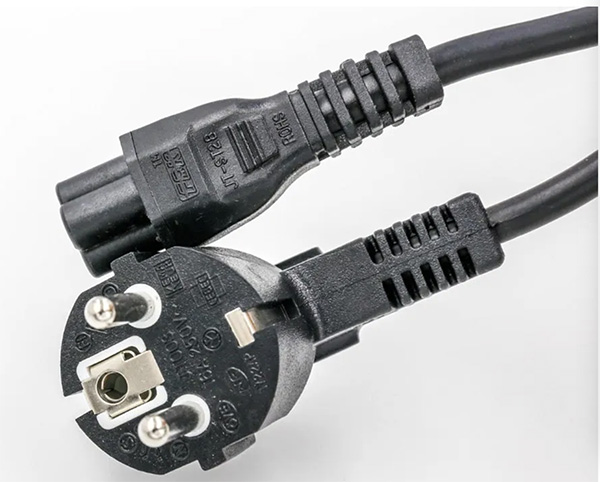 Schuko Plug Straight IEC 60320 C5 Power Cord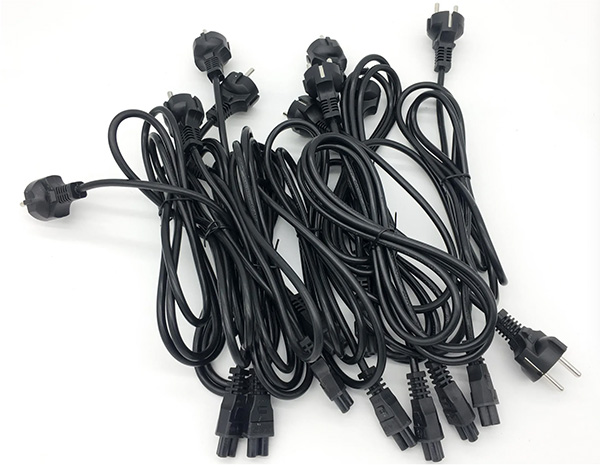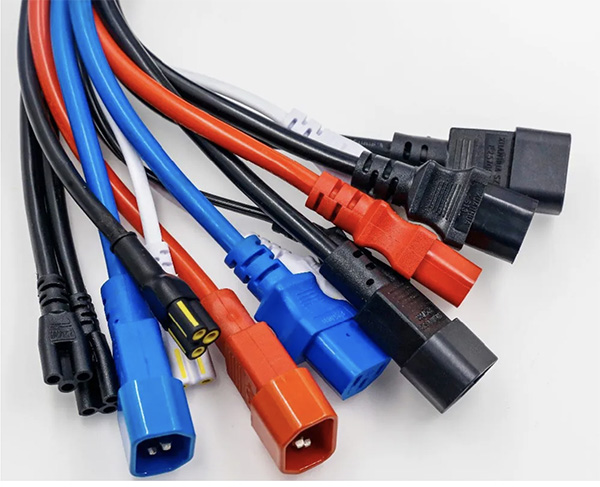 The European German standard VDE certified the maximum current 2.5A, voltage 220V, according to the German SCHUKO CEE7/7 (European plug) standard production, suitable for most the small electrical appliances using the two-phase European power line, the European type plug connecting the European plug connection with the household appliances.

Package

Europe SChuko plugs IEC C5 power cord packed with export cartons, pallets.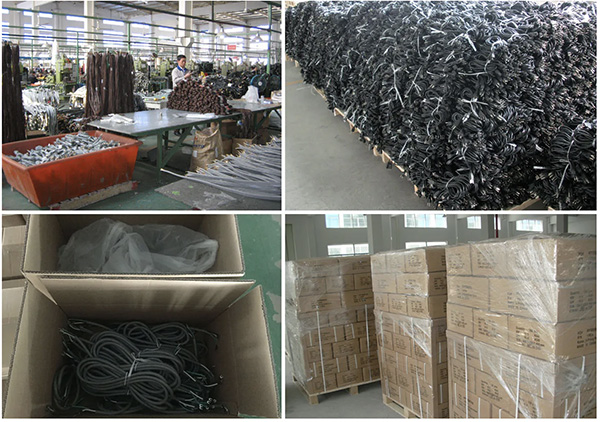 Yunhuan manufacturers and supplies electrical AC power supply cords for use in European and all Countries in the world. Our extensive and complete Europe power cord line includes power receptacle outlets, Plug, weatherproof receptacle outlets, sockets, multiple outlet power strips, power supply cords, power cable wire, and plug adapters. Contact us for Europe AC power cords as China leading Europe power cord manufacturer and supplier.all of our Europe power supply cords are made of high quality approved by VDE, CE with Rohs and Reach compliant.