China GB2099 CCC AC Power Cord,Plug,Flexible Cable
In China the standard voltage is 220 V. The standard frequency is 50 Hz. The power sockets that are used are of type A / C / I.The CCC certification is "China Compulsory Certification", abbreviated to CCC. CCC certification mark "CCC", is the national certification and accreditation administration according to the "Regulations for compulsory product certification"
Contents
1 .
Plug Guide
2 .
Power Cords
3 .
Flexible Cables
4 .
Certifications
5 .
Reference
Plug Guide
The standard for Chinese plugs and sockets is set out in GB 2099.1‐2008 and GB 1002‐2008. the new CPCS (Compulsory Product Certification System) has been introduced, and compliant Chinese plugs have been awarded the CCC Mark by this system. The plug is three wire, earthed, rated at 10 A, 250 V and used for Class 1 applications; a slightly larger 16 A version also exists. The Australian plug fits, though the pins on the Chinese plug are thinner and 1 mm (0.039 in) longer. Many 3 pin sockets in China include a physical lockout preventing access to the active and neutral terminals unless an earth pin (which is slightly longer than the other 2 pins) is entered first. China also uses American/Japanese NEMA 1‐15 sockets and plugs for Class-II appliances. The voltage at a Chinese socket of any type is 220.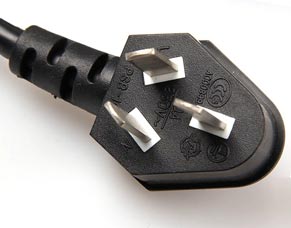 China Plug 10A 250V
This 10 amp plug 3 prong has two flat 1.6 mm thick blades, set at 30° to the vertical, forming an upside-down V. Their centres are spaced 13.7 mm apart and both prongs measure 17.3 mm in length and 6.3 mm in width. The flat earth blade also measures 6.3 by 1.6 mm, but it is 20 mm long. The distance between the centre of the grounding pin and the middle of the plug is 10.3 mm. There is an ungrounded version of this plug as well, with only two flat V-shaped prongs. Since 2004, all new type I plugs need to have insulated live and neutral pins.
A plug/socket configuration rated at 15 amps is also available, but the ground pin is wider: 8 mm instead of 6.3 mm. A standard 10 amp plug will fit into a 15 amp outlet, but a 15 amp plug only fits this special 15 amp socket. There is also a 20 amp plug whose prongs are wider still. A lower-amperage plug will always fit into a higher-amperage outlet but not vice versa. Australia's plug/socket system is codified as standard AS 3112. Although there are slight differences (the pins of Chinese plugs are 1 mm longer and the sockets are installed with the earth contact facing upwards), the Australian plug mates with the socket used in the People's Republic of China (mainland China).
Power Cord
China power supply plugs and cables with with CCC (3C) certifications are manufactured to GB1002, GB2099 and IEC standards designed for Chinese AC power supp cord applications,We are producing two and three prong
China power cord
in standard configurations and can make any custom version as well.all of our Chinese power cords are fully molded high quality cords and RoHS and REACH compliant as We are China leading AC power cable manufacturer and supplier providing cheapest prices of China CCC/3C approved plug with IEC C7,C5,C13,C15,C19 power supply cords with high quality.









China Power Supply Cord 6A 250V PBB-6

China Power Supply Cord 10A 250V PBB-10

China Power Supply Cord 6A 250V 3 Conductor PSB-6

China Power Supply Cord 10A 250V 3 Conductor PSB-10






China Power Supply Cord 10A 250V 3 Conductor PSB-10A

China Power Supply Cord 16A 250V 3 Conductor PSB-16
IEC 60320 Connectors
IEC 60320 power cables come in normal and high-temperature variants, as well as various rated currents. The connectors have slightly different shapes to ensure that it is not possible to substitute a cable with a lower temperature or current rating, but that it is possible to use an overrated cable. Cords also have different types of exterior jackets available to accommodate environmental variables such as moisture, temperature, oils, sunlight, flexibility, and heavy wear. For example, a heating appliance may come with a cord designed to withstand accidental contact with heated surfaces. Worldwide, more than twelve different types of connectors are used for fixed building wiring. Products sold in many different markets can use a standardized IEC 60320 connector and then use a detachable power cord to match the local electrical outlets. This simplifies safety approvals, factory testing, and production since the power cord is a low-cost item available as a commodity. Note that the same types of appliance-side connectors are used with both 110 V and 230 V power cables, so care must be used when moving appliances between countries with different voltage standards — substituting a power cord that matches local power outlets will result in an incorrect voltage being applied to the appliance or equipment. Unless explicitly labelled as capable of handling local voltages, this is very likely to damage or destroy the appliance. Some devices have a slide-switch to adapt to different voltages, or wide-ranging power supplies.
| | | | |
| --- | --- | --- | --- |
| | | | |
| IEC 60320 C5 Power Receptacle | IEC 60320 C5 Power Cord | IEC 60320 C5 Power Cord with Protection Cover | IEC 60320 C7 Power Cord |
| | | | |
| IEC 60320 C7 Power Receptacle | IEC 60320 C13 Power Cord | IEC 60320 C13 Power Cord Right Angle | IEC 60320 C13 Power Cord Custom Made |
| | | | |
| IEC 60320 C13 Power Cord Waterproof | IEC 60320 C14 Power Plug | IEC 60320 C14 Power Plug Waterproof | IEC 60320 C14 Power Plug Custom |
| | | | |
| IEC 60320 C14 Power Cord Right Angle | IEC 60320 C15 Power Cord | IEC 60320 C15 Power Cord Right Angle | IEC 60320 C17 Power Connector |
| | | | |
| IEC 60320 C18 Power Plug | IEC 60320 C19 Power Connector | IEC 60320 C19 Power Cord Right Angle | IEC 60320 C20 Power Cord |
Flexible Cable
The flexible power cables molded with CCC plugs and socket need to match new CCC standard as below details.
PVC Insulated Flexible Cord
Rubber Flexible Cord
Certification
China plug and socket with CCC approvals

Reference
1 .
Catalog China and Other Countries Online
2012

catalog of power cord sets except of United States.